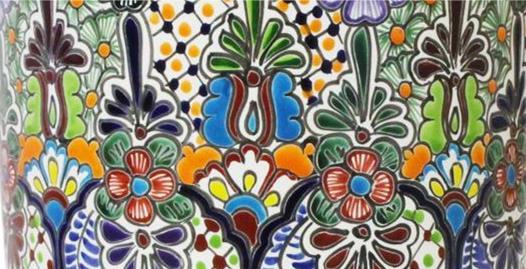 Favorites in Talavera Mexican Pottery
About

Talavera Pottery
The Talavera Pottery are works of art handcrafted by master artisans using techniques that have been passed down generation to generation since the 16th century. The Talavera pottery is produced in the Mexican state of Puebla, and Dolores Hidalgo.
Each piece is hand molded clay or poured ceramic. The pottery is fired in gas kilns for over a week: after the initial firing the artisans begin to glaze and paint and the figures and planters begin to resemble the works of art you see here.
After being painted and glazed the ceramics are fired again for about 10 days at high temperatures giving them excellent durability. Each piece from start to finish takes about a month to produce. These age old techniques, vibrant colors, and delicate attention to detail produce unique one of a kind pieces that are truly works of art.
Enjoy the knowledge that you are buying a work of art that is not mass produced in China, but the product of highly skilled artisans who take pride in their work, using techniques passed down from previous generations.
Talavera pottery is not frost or freeze proof. Like your favorite plant, the pottery must be taken indoors before any danger of frost. Talavera also does not like to sit in water, wet mulch, or be subjected to extreme humidity like a growing green house.
** Items can not be shipped. For local pick up or delivery only. **
A Word from Our Customers